I may have told you this story...stop me if I have. When Brandon and I first started courting, I decided I would make him homemade tomato soup and fancy grilled cheeses. It's obvious that I've been trying to remove meat from his life since our early days. We were at his house, I had toted my cooking gear over there. So it came time to blend all of the ingredients together to make it smooth. I dumped everything in the blender and went to blending. Did you know that when you put hot liquid in the blender, the top might fly off mid blend? Yeah, I didn't know either.
So tomato soup went ALL OVER me, the kitchen, and Brandon. I was mortified. Brandon offered to give it a try at which point he found himself covered in even more tomato soup. At least I wasn't the only one.
Last night's supper was one of those blender soup type of situations. Luckily, I learned my lesson last time and did not find myself covered in soup. I did find myself covered in happiness, as this was some good stuff. You should make it for Thanksgiving! According to the WW magazine, you could make it 3 days ahead. See explanation below the recipe.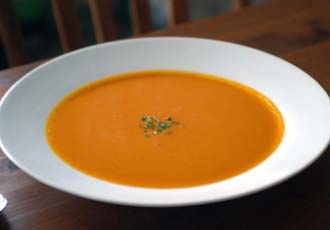 Image
here
. My picture looked a little creepy.
Winter Squash Soup
1 tsp extra virgin olive oil
2 tsp chopped fresh rosemary
32 oz butternut squash, cut into 1 inch chunks (I used to 16 oz packages)
32 oz low sodium chicken broth
Heat oil in a large pot over medium heat, add onion, celery, garlic, 1 tsp of rosemary, salt and pepper. Cook until vegetables are tender, about 10 minutes.
Add squash and broth; bring to a boil. Reduce heat and simmer for about 20 minutes. Stir in remaining 1 tsp of rosemary.
Add to blender in batches, blend until smooth. Before serving, stir in cheese.
Serving size 1 cup
WW points 1
Points Plus 1
If making this ahead, let the soup cool completely after blending. Transfer to a large microwavable bowl and cover with plastic wrap. Chill up to three days. When serving, turn back one corner of plastic wrap to vent. Microwave on high until hot (about 5 minutes) stirring once halfway through. Stir in cheese before serving.