Hey ya'll! Anyone out there? It's been a busy week for this chick-a-dee. Sure glad it's Friday, though, because this weekend is chock full of super exciting-ness. Having a lingerie shower tonight for good buddy Kristen, Brandon and I are getting our bar stocked tomorrow night (I'm raising the roof as I type this), and there's Sip 'n See for Baby Kittrell on Sunday. Between all this and the big move, excitingness abounds. And maybe my neck hurts a little.
What's not exciting, though, is my new hoot owl friend. He (or she) likes to start a hootin' early EARLY in the morning time. I'm trying to name him (or her) so that I'll be cursing at something specific instead of just cursing in general. Your suggestions are encouraged and appreciated.
In my mind, my hoot owl has a mean eyes just like this guy....
What else? Oh this was strange...I had a dream that Emma Stone DEMANDED to come to mine and Brandon's wedding. I wonder what that's all about? Your opinions on that are also appreciated and encouraged.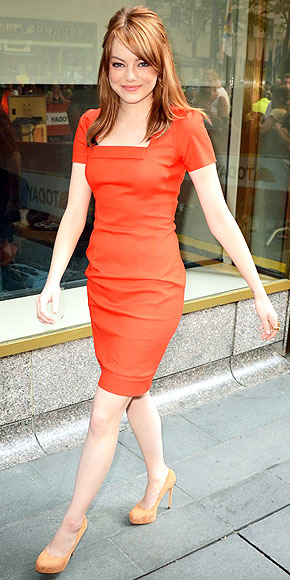 Hey girl. Love your shoes.
I also love the idea of this...
That's creamy artichoke lasagna, thank you very much. You can find it here and then make it for me...
Turns out I've forgotten that I'm a point counter. At least I tracked my shrimp lo mien last night...that was an eye opener.
But I'll get back on track, I always do. And when I decide to get back on track there will be lots of yummy recipes waiting on me. Like this one...
This is Crock Pot Pasta Fagioli. Interesting fact...it's been one of my most "repinned" things on Pinterest. That has, along with this and this. All of this is very strange to me. And probably very strange to you if you have no idea what I'm talking about. Which is probably most of you. I once had someone come up to me and say "yeah, I um, read your blog? And I had no idea what you were talking about..." Whoops.
I'll leave you with this website crack that I stumbled upon. I strive to be organized, am borderline obsessed with it even. At the end of the day, though, my strange mixture of possible adult ADD and probable obsessive tendencies make this a tough feat to master. One day.
I'm off to register for clear containers...