I'm a lot of things, a girly girl is not one of them.
Most days I don't dry my hair and I rarely put on make up. Speaking of that hair? It hasn't been cut in a year. Don't even get me started on my eye brows.
Now before you go pointing your finger at me and screaming SLOB! you should know that there are a few things that hit my girl chord and make me want to don pink bows in my tresses.
1. The Gap 1969 Legging Jean in Indigo Rinse.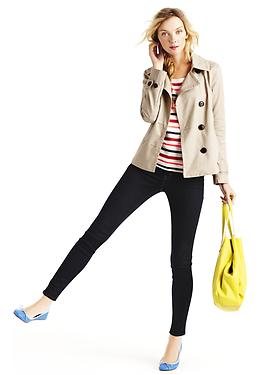 These are dark enough for me to wear to work (at least in my mind, I'll do it until I get told not to! Rebel.) and fit like a dream. And they are much, much cheaper than other jeans (Ahem, Citizens, your pricing is rude) on the market.
A little back story on me and black jeans: I scored a pair of J Brand black skinnies several years ago on Gilt. They were kind of the light of my clothing world and I was devastated when the crotch finally blew out. Srsly. Tossing them was painful and if the hole wouldn't have been in such an awkward area I probably would have kept on wearing them forever. These jeans are my replacements for my J Brands. May they rest....
ALSO. I'd like that short trench if anyone would like to get me a "hey girl, you're awesome" gift.
2. Sally Henson Salon Airbrush Leg Make Up
Yeah, those are my thighs. What up.
Since if we were giving out derogatory nicknames mine would be "Pinky Legs" this product is a great way to even up skin tone and hide splotches in the winter. I've got a few par-tays coming up, this will be the great way to up my confidence level when wearing a short, sassy number.
To use, spray it in your hands and apply it like lotion. Let it dry completely. Use some good, moisturizing body lotion to help smooth it out. I found it at the Greenwood Walgreens and opted for "light glow."
I feel like I've blogged this one before; if so it's completely worth a second mention. When I do wear make up, this is my favorite! All Bobbi is awesome, this gel liner is a step up from awesome! I got it when I was purchasing make up for my wedding and it's my favorite. A close second is the Rich Color eye shadows. They are creamy yet powdery and again, awesome.
4. Sam Edelman Gigi Sandals
Now, I haven't ordered these yet because the horrible grinding sound coming from my car something tells me that I'm about to have to buy some new brakes BUT I am ordering them. And soon. Probably in this almond color but I'd also love to throw caution to the wind and get these:
I love a good staple (hence the black jeans and the gel liner) and I feel that these (well, the Almond ones) would fit beautifully as a summer staple.
Hope you've enjoyed this list!
Your bushy eye browed, ratty hair friend.